Warning
[
Note : ***Due To Republic day Some Of Delivery Location[Area] in india Delivery not possible Today 26/01/2020 Please Call Us Before place your New Order Call Us 9038870885
Home

›

Cakes

›
1Kg Chocolate Truffle Heart Shape Cake Roses bouquet n Greeting Card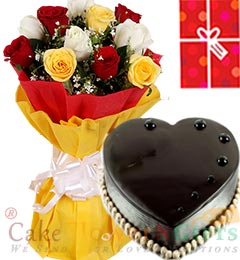 100% Secure Payments
All major credit & debit cards accepted
1Kg Chocolate Truffle Heart Shape Cake Roses bouquet n Greeting Card
Product ID::CFNG -351
1Kg

Chocolate Truffle Heart Shape Cake

with 6pcs

Roses bouquet n Greeting Card
Your Can Chose Pink Roses / Yellow Roses / Mix Roses

instead of this product

Red Roses Bunch [ send Mail or Call Us For Product Alteration ]
Note

:

We deliver fresh cake/flower but since every person has his / her own style to make and decorate the Cake /flower hence decoration and design of the product may be different than image displayed. Be assured about quality.

Write Cake or Flower or Gift Message in Billing Page " Choose Delivery Date & Time in checkout

Same Day Delivery & Same Day Midnight Delivery in City Area*Orders should be place on or before 6PM (Indian Slandered Time).Our Morning Time slot start from 8am-11am , Afternoon Slot 1pm-4pm and Evening Slot 4pm-7pm. Night & Midnight Slot:9:00pm-12:30pm.*The image displayed on the site in indicative in nature. Actual product may vary in shape or design as per the availability
Manufactured by:
Branded Gifts Shop
1399
New In stock! Order now!
Pick an upgrade:-
View All Delivery Location (city)
+91-9038870885
support@cakeflowerngifts.com
Need Help With This Order? call us